The 3D-lipo machines offer five different methods of fat reduction and improvement of skin appearance, with bespoke services being offered to suit a person's individual needs.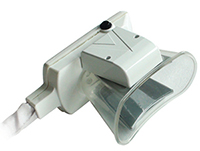 Cryolipolysis
In a process that utilises the completely unique combination of electro and cryo therapy, there will be a 20-40% reduction in the fat cells of the treatment area, which will die and dissolve over the months following treatment, to reveal the new body shape. It works via a targeted super cooling applicator that takes the temperature of the treatment area down to -6ºC, which freezes the fat cells to a point where they cannot survive (1). This kills the fat cells under the skin, without affecting any other type of cells.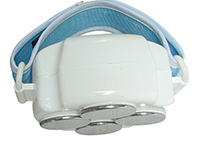 Cavitation (Ultrasound)
Cavitation allows for a large area to be treated in a shorter period of time thanks to the four transducers that are used. It is a non-invasive way of body sculpting, by treating deep cellulite and reducing fat in localised areas.
Using low frequency ultrasound, bubbles are created in the liquid in the fat cells. These bubbles implode once they grow to a certain size and the heat and pressure energy that is released, causes the destruction of the fat cells. No other types of cells are affected and the broken down fat cells are re-purposed by the body or excreted.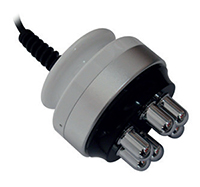 Radiofrequency (RF)
Radiofrequency energy is directed to a target area to improve the appearance of cellulite and to tighten skin. The radiofrequency energy heats the layer of skin which contains the collagen fibres, causing these fibres to contract, as well as increasing the production of new collagen and elastin. This will tighten the skin for a smoother more youthful appearance. The 3D-lipo system comes with options for RF skin tightening on both the face and body.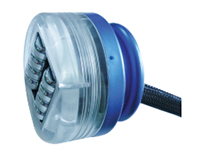 Dermology
Dermology improves the appearance of skin with cellulite reduction by combining a roller and vacuum action. This works by increasing the blood supply and lymph circulation.
The later 3D-lipomed model combines this modality with in-built radiofrequency.
License Status European CE Mark certified medical device.
Should Be Used By
The 3D-lipo system should only be operated by trained aesthetic professionals, be they medical professionals such as doctors or nurses as well as aesthetic or beauty therapists. This treatment is often performed by trained aestheticians in medically-led clinics.
The manufacturer notes that with each system a clinic purchases the company offers free training throughout the first 12 months of ownership, so each user should be fully trained. Don't be afraid to ask about your practitioner's level of training before going ahead with any treatments.
What is it Used to Treat?
The 3D-lipo machine range offers non-surgical fat removal for men and women, as well as the treatment of cellulite and body skin tightening (such as post childbirth tummies). Modalities can be used separately or in a combined treatment approach, depending on your specific concerns. It can be used on the abdomen, flanks, back, inner and outer thighs and buttocks, as well as on the upper arms and under the neck, around the jawline. Addressing areas of concern often referred to as love handles, saddle bags, muffin tops, turkey neck and bingo wings.
How Long does it Last?
There is no reason why the results seen from a 3D-lipo procedure shouldn't be permanent if the recommended treatment regime is followed. Weight gain or hormonal factors could affect long term results so you are advised to adopt an appropriate diet and lifestyle plan after your treatment programme ends. You will not be required to follow a specific exercise regime during or after your treatment however.
You may be advised to have top-up treatments on an annual basis to maintain the results.
Side Effects & Risks
As the treatment is non-surgical, the recovery time is much shorter than more invasive fat removal treatments.
You should be able to return to your normal activities almost immediately following treatment. Some individuals might experience a little redness, bruising and discomfort in the treatment area, both during and after treatment, as well as possible tingling and numbness. All these minor symptoms will be very short lived, leading to a quick, full recovery.
Not to be Used In
As with most cosmetic procedures it should not be used in women who are pregnant or breast feeding, or on any areas of skin that are affected by wounds or injury.
Those with pacemakers or metal implants within their body may not be suitable for treatment.
A full medical history should be taken before treatment and if you have any concerns about your suitability you should consult a doctor before undergoing any treatment.
Treatment Regime
Depending on the specific hand pieces used in a treatment, each session of 3D-lipo lasts between anything from 30 minutes to 1.5 hours, and the treatment regime depends of the targeted treatment, the hand pieces used and the desired results. Some people have achieved their desired results after one treatment, particularly with cryolipolysis, others may have up to 6-8 treatments, to get the preferred amount of fat loss or cellulite reduction using cavitation, RF and dermology. With most methods, one area is treated at a time, with one week between treatment sessions.
Clinical Results
Positive results from treatment will be seen after the first session and over the following few months as the body metabolises the destroyed fat cells and new collagen formation occurs to tighten skin. Better results in fat reduction and skin tightening will be seen with each additional treatment. Fat cells will continue to be flushed out of the body, up to 6 months following treatment.
 Fat Freezen Treatment – Before and after photographs are real patients, your results may differ.
3D LIPO – NON SURGICAL LIPO CELLULITE & FAT REDUCTION

Skin Tightening ( Radio Frequency) Face

£50

Skin Tightening ( Radio Frequency) Face & Neck

£60

Skin Tightening (Radio Frequency) Body

£99

Cellulite Reduction (3d Dermology & RF)

£109

Fat Reduction – Inch loss (Ultasound Cavitation)

£129

Fat Reduction – (Cryolipolysis) – Chin

£150

Fat Reduction – (Cryolipolysis) – Other body parts.

£250

3D LIPO PACKAGES

8x Course of skin tightening body

£599

6x Course of 3D Lipo Treatments (CAV,RF,VAC)

£699

Pro Body All-inclusive (8x Fat removal & 4x Skin tightening)

£899

The Ultimate Fat Buster

(2x Cryolipolysis,6x Skin tightening,6x Fat removal OR Cellulite Reduction)

£1199
Be beautiful. Feel good about it